Gathering #1: Home Sweet Home

What are some rituals that make us feel at home? What is inherently a home? And what does it consist of? Is it material or immaterial, a space or a body? What kind of ingredients constitute a home? Memories, people, emotions? Is it a shelter, or a sanctuary? Is it something we run from or confide in when things are difficult?

Within Western cultures, homes and houses are closely linked together. With the enclosure of the common land, communal structures have been replaced by private homes. This binary between the public and the private also encloses our relationship with others, to nature and knowledge.

In this workshop—with room for eight participants—we will explore different notions of what a home could be and what a home means to them. Ultimately seeking alternative kinships towards the essence of what a home is. By playing with the common signifiers of what constitutes a home, we aim to collectively imagine alternate views on what a home is, or could potentially be.

Through performance work and (edible) sculptures, the organizing and invited artists will help us rethink the communal aspect of the home. Paired to this, there will be a reading, in which we collectively reflect upon the material and seek new knowledge and conceptions to emerge. Through a combination of objects brought by the participants and materials we prepared, we will ultimately use these new ideas to build our home collectively.


This collectively built home will later open to the public in the form of an exhibition, further breaking this binary between public and private. Temporarily the cultural norms are subverted within the space and the home becomes an open place, a meeting ground and a place for collective reflection.


Co-produced & curated by
Myself and Sjoerd Beijers

Performance by
Adriana Joëlle

Contributions by
Lorenço
Kyra Nijskens
Abel Hartooni
Beljita Gurung
Lizzy Jongedijk
Seppe-Hazel Laeremans
Jessica Marlieke van Egmond

Photography credits go to Isaac Ponseele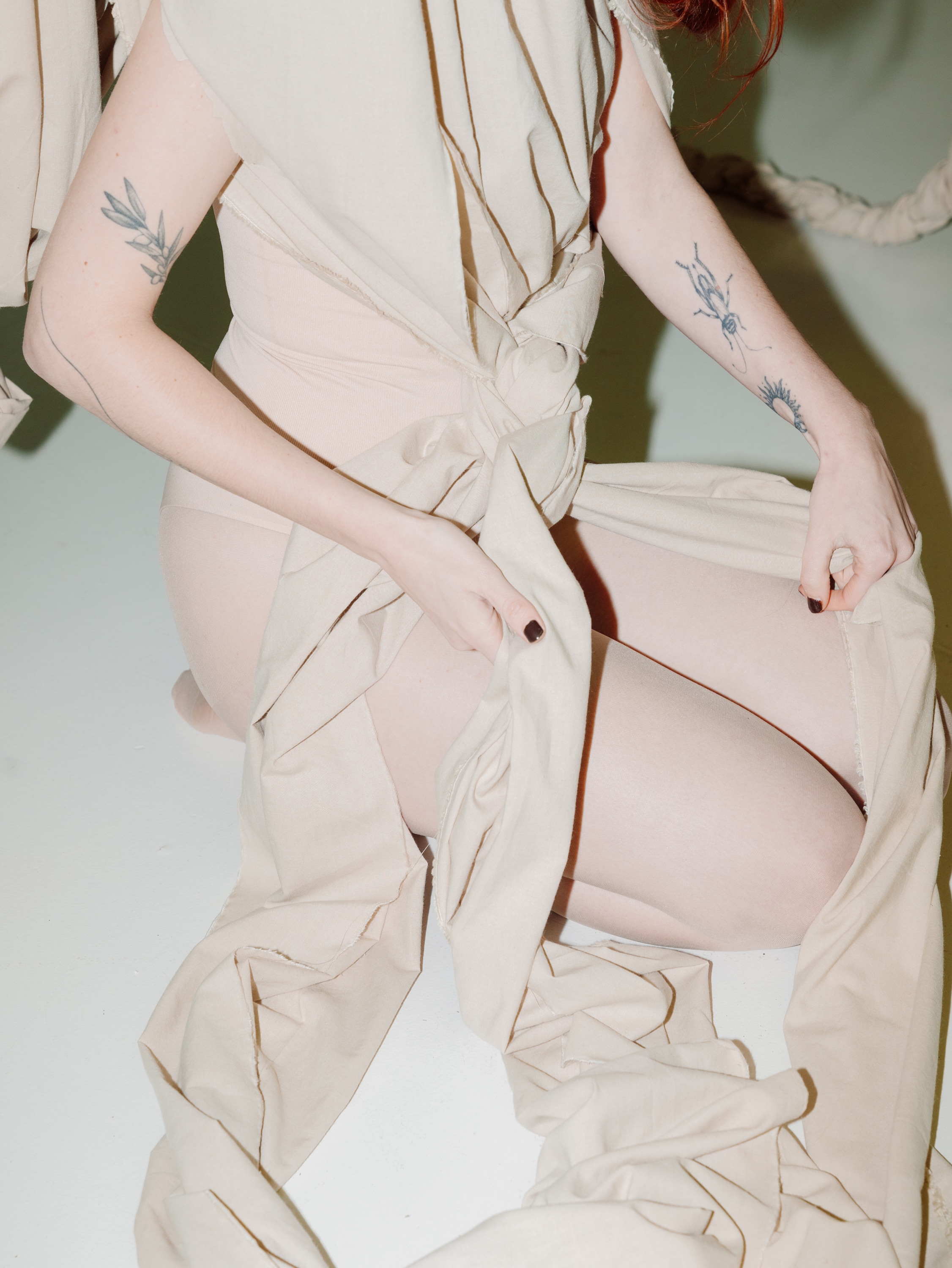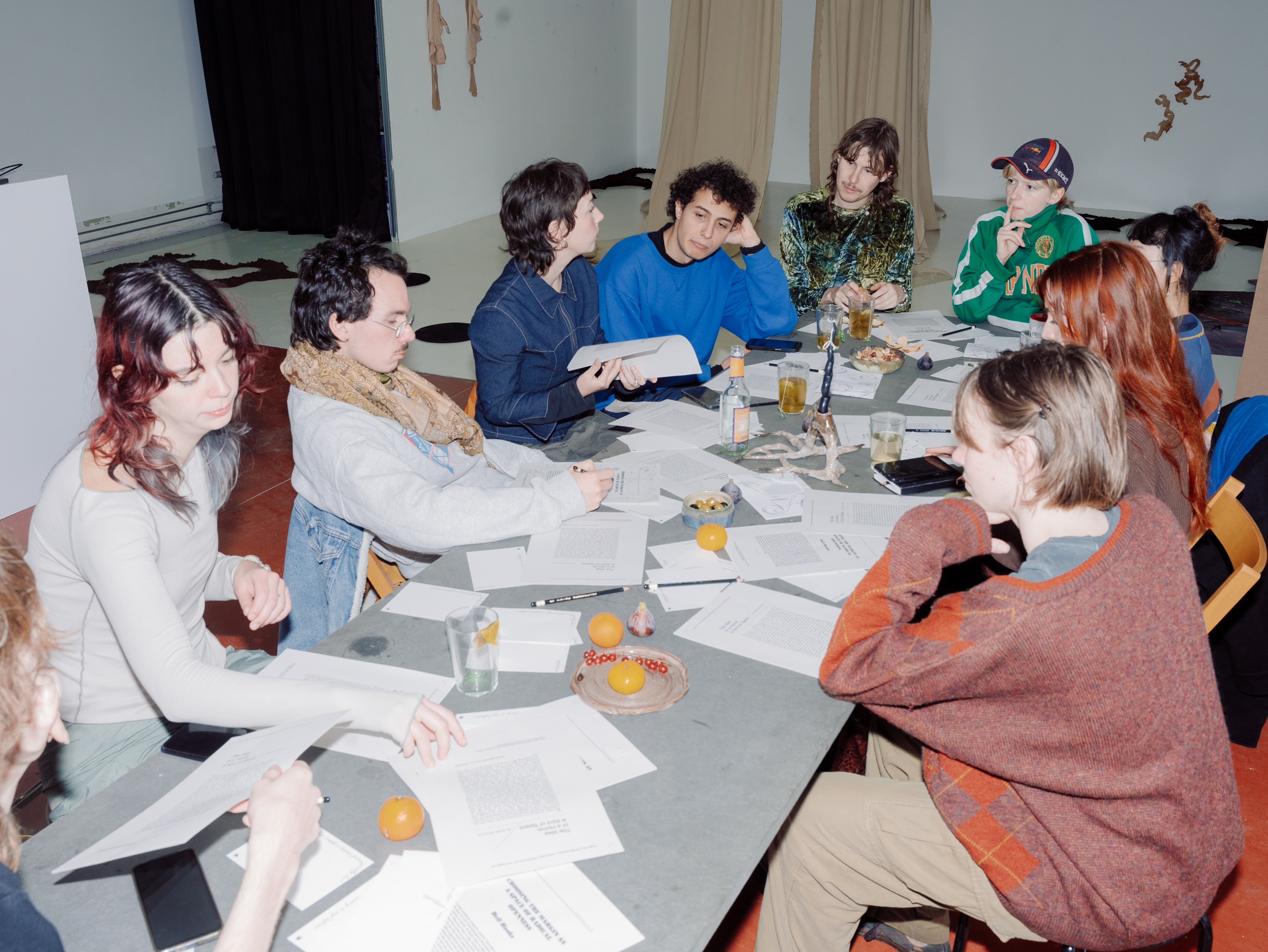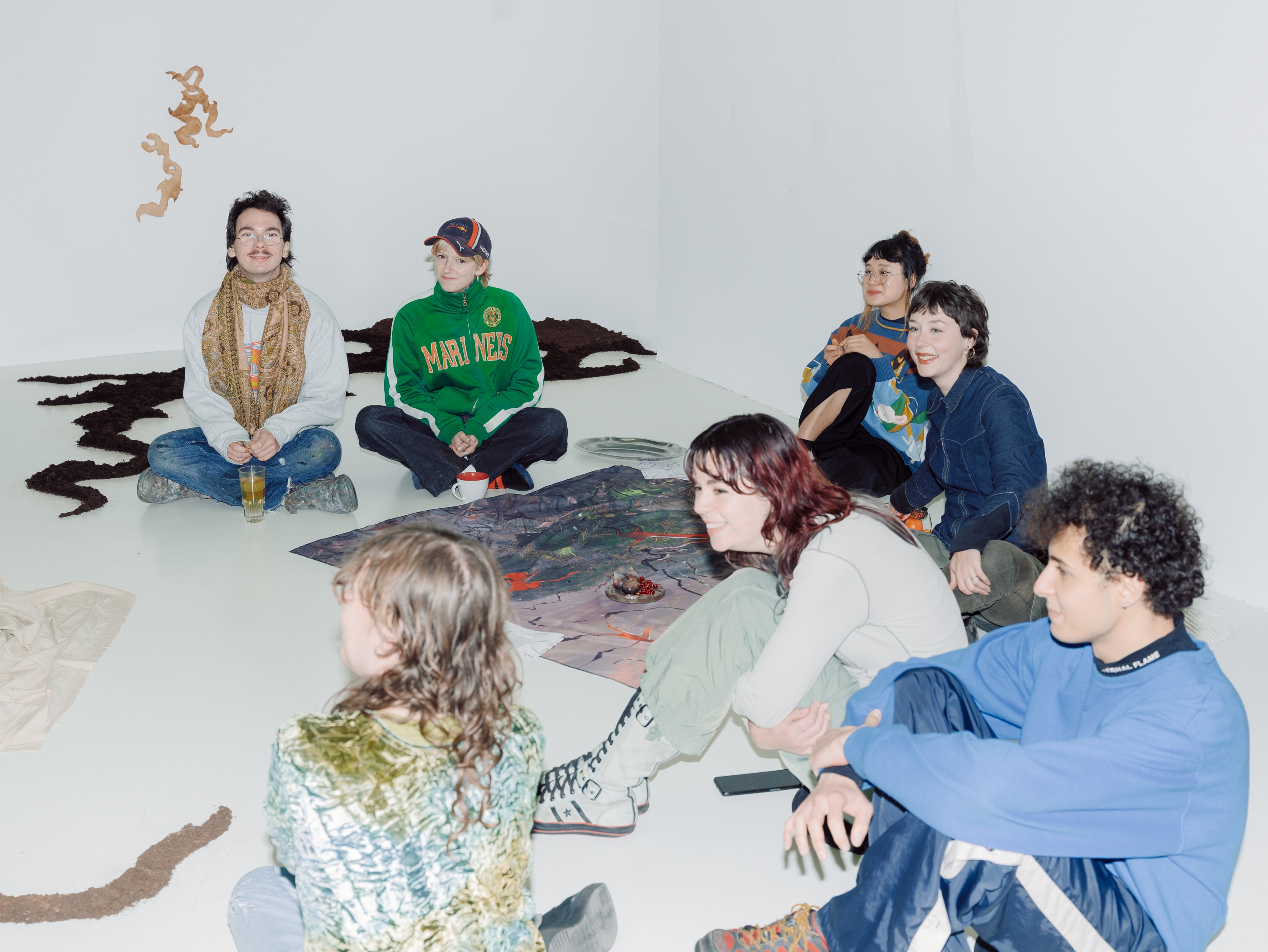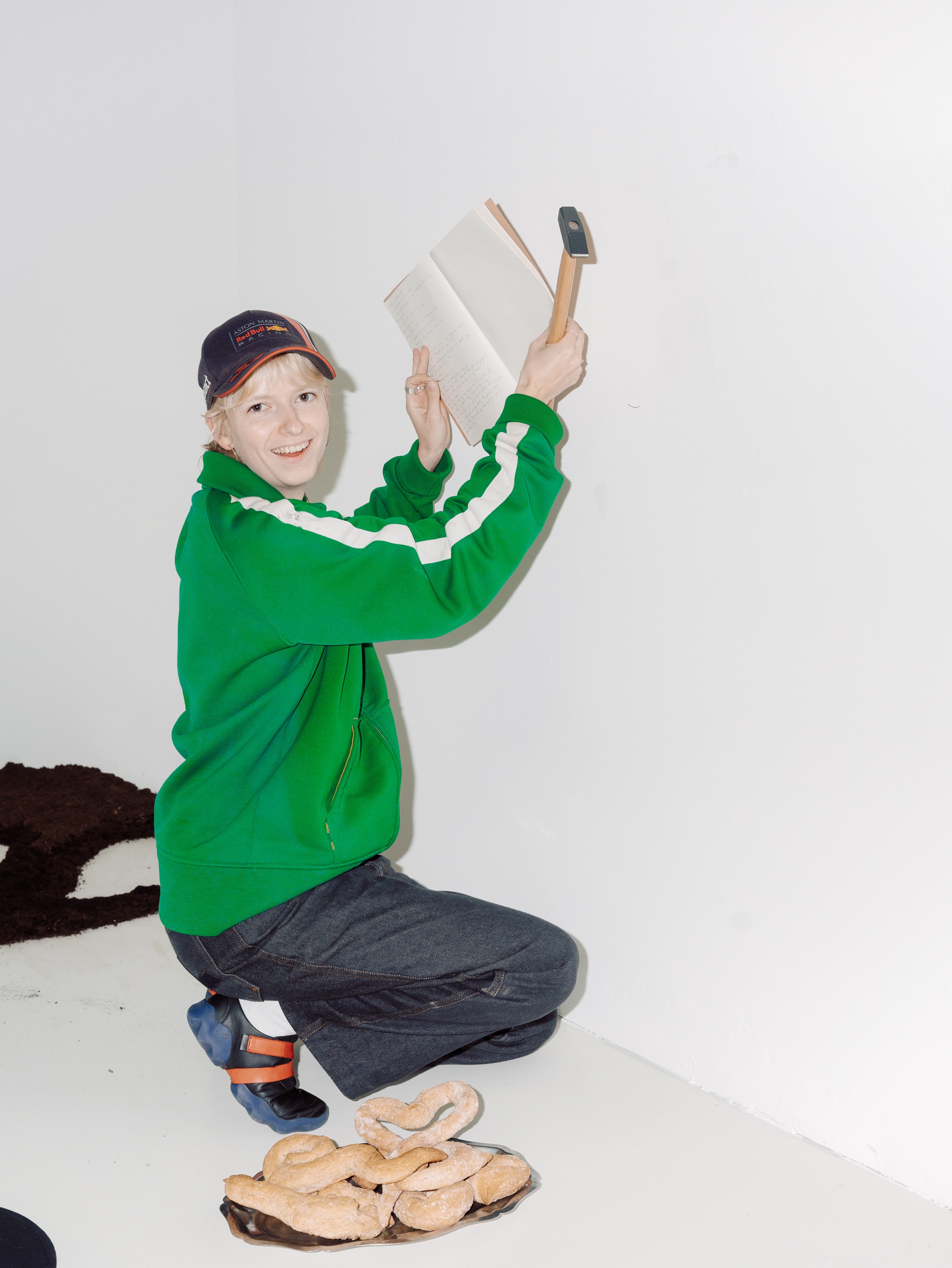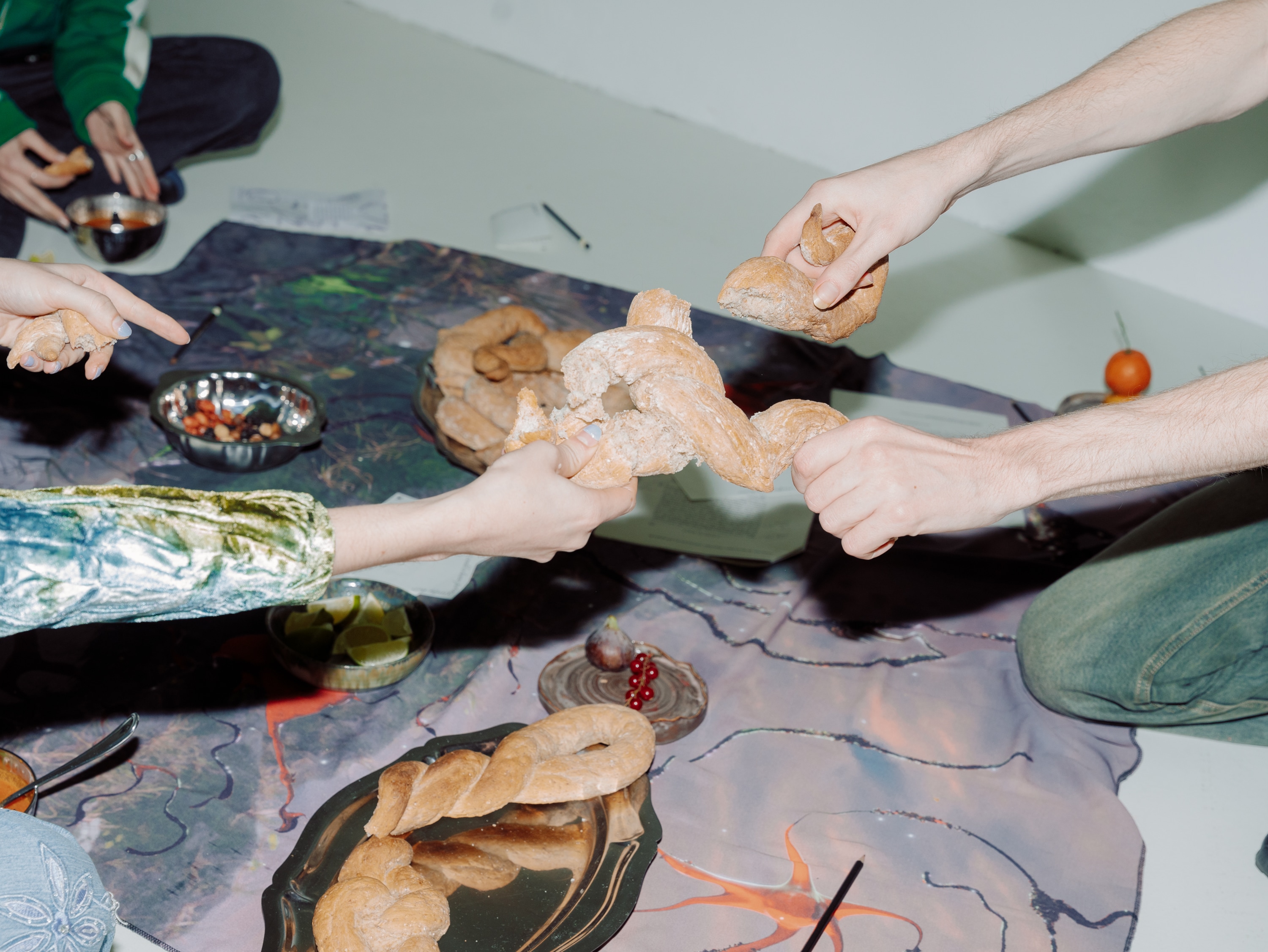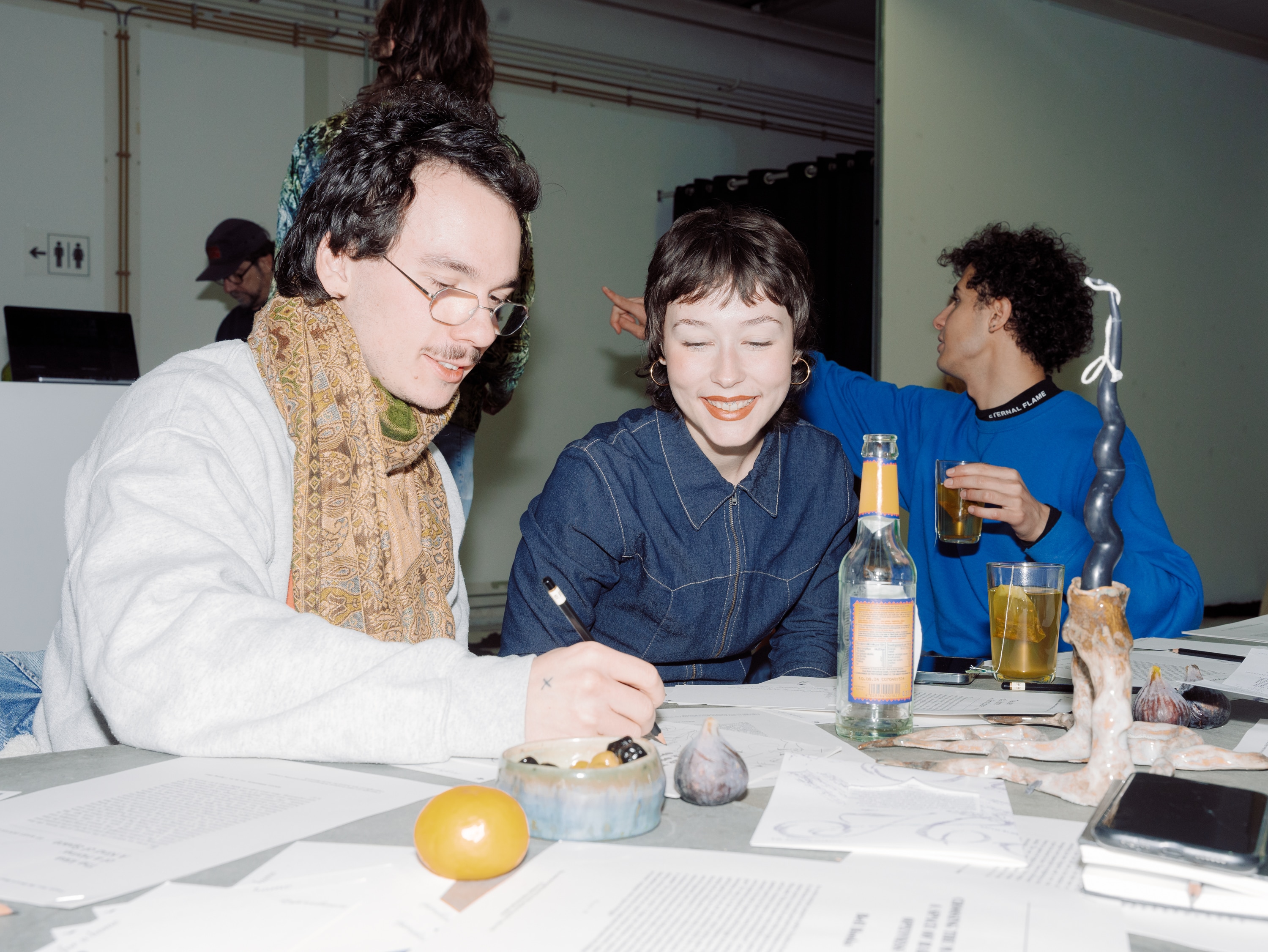 To own your own joy
(Text by Sjoerd Beijers)
..."A mysterious white figure stares into a mirror. Sharp white fangs, clinging around a poem. A tail—reminiscent of that of a horse—wagging slowly, as they delicately step throughout the space.
In the performance To Own Your Joy, Natalija Gucheva recites a self-written poem, accompanied by the sound of Benjamin Schoones. In an altered—deeply harmonised—voice their words sharply fill the room:
"As the oyster opens
Soft liquid oozes and drips on your legs
Coding different systems of pleasure"

In their writing, Natalija found inspiration in Goblin Market by Christina Rossetti. The Victorian poem explores themes of temptation and sisterhood. The relationship between its two main characters is interpreted as same-sex desire and becomes fertile soil for their own expression to spring from. They expand upon this, voicing their personal truth on gender and sexuality, and the freedom entailed within. Being confronted with the pressure to conform to heteronormative societal norms is a daily practice for queer individuals, to which the artist finds an escape, even if it is temporary. Weaving together garments—by Alexis Gerlach and Aidan Abnet—Natalija searches for identity. A tail, claws, horns. Animalistic elements in their costume can be perceived as a symbol of the constant mutation and code-switching that queer individuals go through. Yet at the same time, they might resemble the monstrosity that society perceives them as. However, as powerfully demonstrated in the performance, these can also be claimed and used as a means to voice anger. To fight back:
"To claw out of our monstrous bodies
Burn the cocoon and lick the ashes
Spit in the face of terror
As a final lullaby"

In a similar notion to the original poem by Rossetti, the norms of the venue become subverted. Natalija's personal truth on gender and sexuality momentarily intruded the space, as a loud scream unleashes:
"I OWN MY OWN JOY"
Performed by

Myself


Music Production

Benjamin Schoones
Costume Design
Alexis Gerlach & Aidan Abnet
Photography credits go to Johan Poezevara
---
The full poem can be found here
Transcendental Sympathy / Tales of the soil

(..Like daisies in the field
They whisper some secrets
Into the messengers
A small ecstasy
An understanding

A sound so pure and known
Has emerged from the sky
And cast them to moan
To say a chant, a prayer
A queer memoir on its own..)
We ground ourselves in a new cloak of light. The sound of the soil carries us to new discoveries. We exist together in a land of pulsating rhythm, where many tales form, only to show what we have already known. Visceral and abundant, we listen to our bodies as we listen to nature. Guided by our zeitgeist, we embrace time in its true mystical essence.
How do we listen? How do we experience and connect? How do we form bonds with our communities and our spiritual essence? Transcendental Sympathy becomes a Tale of the Soil, and invites us to feel and play, and explore the possible futures of our personal utopias.
Performed by

Igor Herder
Alina Pilecka
Lotte Verkaik
Zsófia Molnár
Jackie Galama
Saša Skovajsikova
Make-up

Merel van Vlijmen


Music Production

Benjamin Schoones
Design and Illustration by
Naomi Hettiarachchige Hubèrt
Costume Design
Jentl Rietdijk aka Jeshiva Mendel
Photography credits go to Rasheed Vlijter
---
The publication carrying the literary aspect of the performance with the same name can be purchased via email and at selected bookstores such as De Utrechtse Boekenbar in Utrecht, Rokko in Ghent, Terry Bleu in Amsterdam, Extrapool in Nijmegen and PrintRoom in RotterdamTranscendental Sympathy / Tales of the Soil was also a part of the byob fair at Enter Enter in Amsterdam from the 15th September till the 15th of October 2023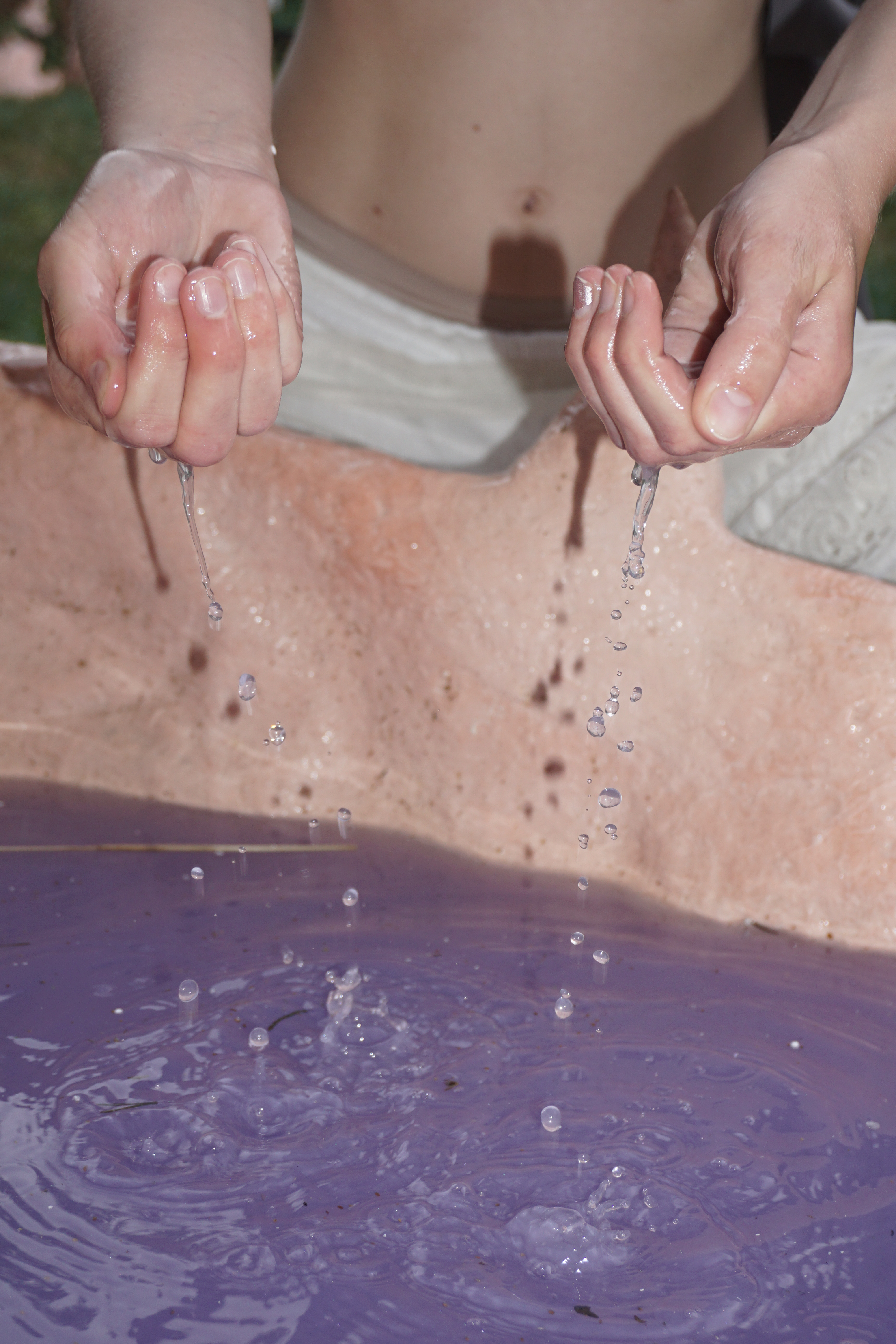 (re)birth / you melt my heart

We live in a constant cycle of destruction and rejuvenation. The Earth is changing. We are changing. How will a potential post-human life evolve and shape new visions of the world?

Four Fine Art students from the HKU (NL) and KASK (BE) explore these questions and reimagine them in a site specific installation here at the ExBunker. New ground is given for nature to start sprouting again and artefacts from a lost past will emerge, intertwined with contemporary and past habits. The Bunker is transformed into a space of potential life that will survive even in an apocalyptic scenario, similar to the Svalbard Global Seed Centre in Norway, harbouring its seeds and giving them the opportunity to flourish again, giving rise to a new landscape that goes beyond the known geographical and social boundaries. The installation comes to life, grows and reveals traces of a long gone past, frozen in time, conjuring a speculative reality that is not far from the truth.

"...The objects, each possessing a mystery, can take on the roll of a relic of time. Past, present and future blend in the divergent shapes, and create new archives - ones that exist within our perception, and weave a portal to another realm. They generate a place of transition, of wild growth and new breeding grounds. Experimental labs, where organisms and ideas have the luxury of being hidden. It is a place where our imagination can mutate, expand, shape, a new layer of reality - one that can merge worlds. We think of the dance of the nymphs, satyrs and water sprites in the muddy water, embracing the diversity of nature, and protecting the sacred habitat of shadows. We think of the (re)birth of a new-age habitat, a space where spirits collide. The amulets, oracles and vessels exhibited, entail a new energy, a contemporary homage to a lost past, with the ability to fertilise new grounds for a new dance - one in alliance with the past, and speculative of new beginnings."

Groupshow by
Junhao Xiang
Katharina Busl
Vincent Entekhabi
& myself

Photography credits go to Vincent Entekhabi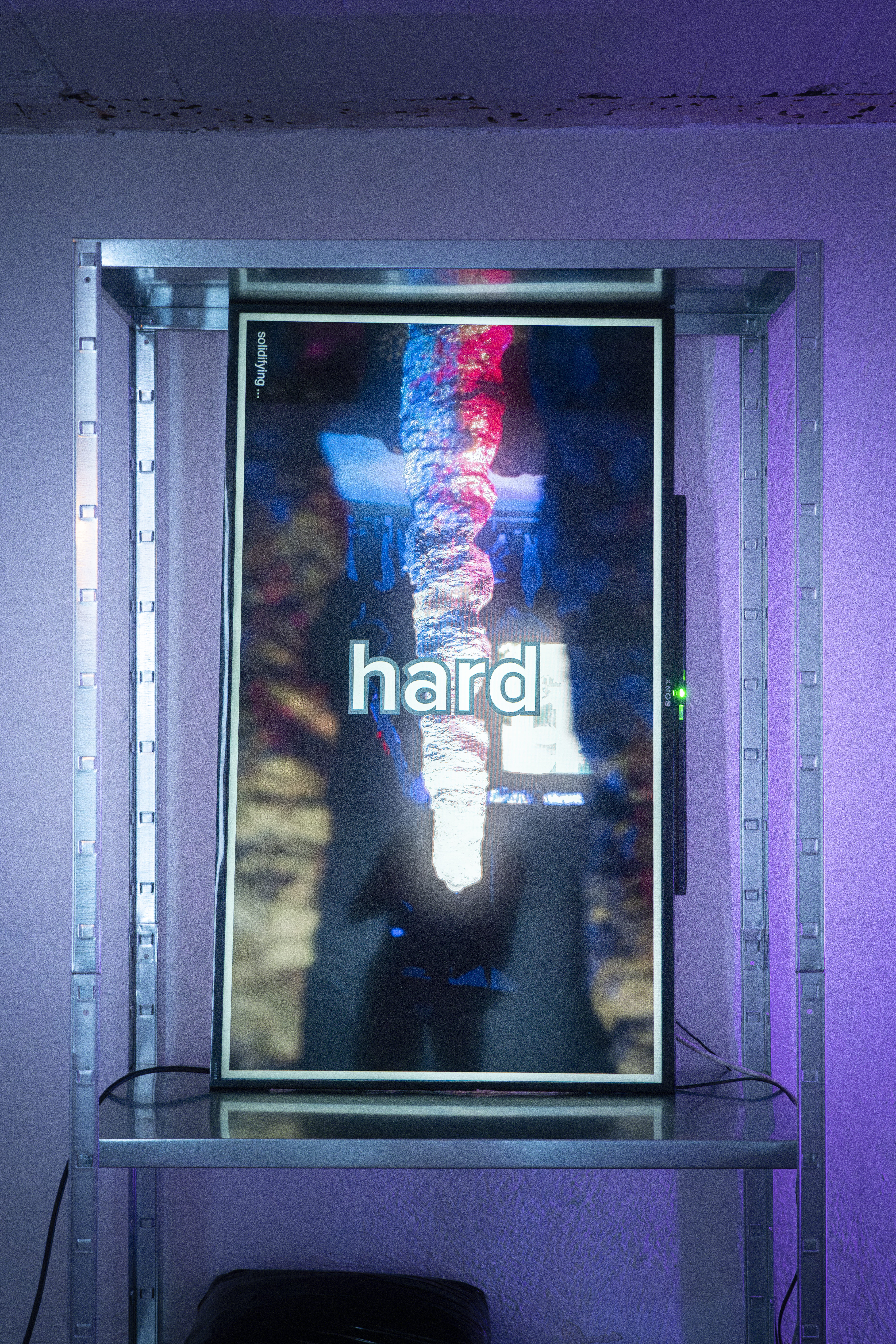 celestial furnace: sentient vessels
(All Things Ceramic, Louise Chignac, p126, From the Pot to the Earth at Rochester Square)
"...Clay's ubiquity, accessibility and malleable nature have allowed it to be one of the few materials of the ancient world that escaped any hierarchical classification, having never been reserved for a unique function. The material happily lends itself to all functions - plate, bowl, religious vessel or magical figurine - bridging the gap between the rich and the poor, high and low culture, design and utility. Ceramic as a medium constantly flitters between art and craft; it generously straddles both simultaneously and without discrimination. Clay has no time for aesthetic politics or the musings of disgruntled critics. It will be whatever it needs to be."
The vessels in this series form an equilibrium between human and non-human, crafted by the desire for (re)imagining hybrid futures. Drawing inspiration from nature and the divine, the objects open a portal for envisioning new narratives and a playground for emerging rituals.
---
Some still available for purchase, contact via email regarding size & delivery / price list here